……………….A brief history of RAF Hunsdon…………….
Work began on the construction of an RAF aerodrome at Hunsdon in Hertfordshire in October 1940. The airfield had two concrete runways with a perimeter track, sixteen blister hangars, one Bellman hangar, ten aircraft dispersals, eighteen hardstandings and over two hundred buildings. There were eight dispersed sites to the west of the aerodrome, used mainly for accomodation. Several buildings were requisitioned, one example being Bonningtons in Stanstead Road which was used as the Officers' Mess.
85 Squadron were the first unit to arrive on May 3rd 1941, newly equipped with Boston Havocs. The next evening RAF Hunsdon became operational when 'A' Flight commenced operations. Over the next month 85 Sqn were joined by temporary detachments of 242 and 56 Squadrons, and in June 1941 a 'Special Havoc Squadron', later renamed 1451 Flight, was formed at Hunsdon. 1451 Flight flew Turbinlite Havocs – 'flying searchlights' – and Hurricanes. They became 530 Sqn in September 1942, and were disbanded in January 1943.
 In July 1941, 3 (F) Sqn equipped with Hawker Hurricanes began to operate from Hunsdon but the squadron did not move in until August. They later re-equipped with Hawker Typhoons before leaving the station in May 1943. 3 Sqn initially flew as fighter support for the Turbinlites but after this proved ineffective began intruder missions and shipping convoy patrols. The squadron had a detachment at Manston in Kent, and moved to Shoreham for a two-week spell in August 1942 for the Dieppe landings.
 The station was visited in June 1942 by the 'Hun Circus' – captured enemy aircraft including a Me110, Ju88 and He111. There were short stays for two squadrons – 605 Sqn in August 1942, and a flight of six Defiants from 287 Sqn in September 1942 for searchlight co-operation exercises.
From August to November 1942 1530 Beam Approach Training (BAT) Flight operated at Hunsdon with Airspeed Oxfords.
 In May 1943, 85 Sqn – who had exchanged their Havocs for de Havilland Mosquitoes in August 1942 – left for West Malling. 85 Sqn were Hunsdon's longest serving unit, stationed at the airfield for just over two years.
 Replacing 85 and 3 Squadrons were 157 Sqn (Mosquitoes) and 515 Sqn (Defiants and Beaufighters). 157 Sqn, who flew intruder missions as well as carrying out night fighter duties, left in November 1943, and were replaced by the first Canadian unit at Hunsdon, 410 (RCAF) Sqn, who arrived for the first of three stays.
515 Sqn Defiants were fitted with 'Mandrel' electronic countermeasure equipment designed to jam the German Freya early warning radars.  By the time they moved on join 100 Group, Bomber Command in mid – December 1943, 515 had converted to Beaufighters.
410 Sqn left at the end of December.
 On 31st December 1943 Hunsdon came under the control of the 2nd Tactical Air Force and saw the arrival of 140 Wing, comprising of 21, 487 (RNZAF) and 464 (RAAF) Squadrons. These three squadrons flew Mosquito VI fighter-bombers, attacking targets in France such as V-1 construction sites and enemy airfields. One of the most famous missions of the Second World War, the Amiens prison raid in February 1944, was undertaken by 140 Wing from Hunsdon led by Group Captain Percy Pickard.
 After 140 Wing left, eight Mosquito squadrons operated from Hunsdon throughout 1944 to early 1945 on defensive patrols and intruder missions. 410 (RCAF) Sqn returned for a second stint (April – June 1944) along with 409 (RCAF) Sqn (April – May for two weeks, then June – August 1944), 29 Sqn (June 1944 – February 1945), 264 Sqn (July – August 1944), 418 (RCAF) Sqn (August – November 1944), 410 (RCAF) Sqn (September 1944 for two weeks), 219 Sqn (September – October 1944), 488 (RNZAF) Sqn (October – November 1944), 151 Sqn (November 1944 – February 1945).
 'B' flight of 4 Squadron also had a one month stay from March – April 1944.
 A detachment of 285 Sqn Hurricanes arrived from North Weald for a short stay in February 1945. On March 3rd 1945, three squadrons, 501, 154 and 611, flew into Hunsdon. 501 Sqn operated Hawker Tempest V's, flying anti-V1 patrols before being disbanded on 20th April 1945. 154 (with Mustang IV's ) and 611 (flying Spitfire IX's and Mustang IV's) Squadrons became known as the Hunsdon Wing, providing fighter escorts for bombers.
 154 Sqn was disbanded after their last operation on 31st March 1945 and their aircraft given to 442 (RCAF) Sqn who arrived on 4th April. 441 (RCAF) Squadron, equipped with Spifire IX's, were the last squadron to be posted to Hunsdon at the end of April 1945. Both 441 and 442 Squadrons left Hunsdon on May 17th 1945 and the station was reduced to a Care and Maintenance Basis two days later.
 During it's operational life, RAF Hunsdon was visited by many 'top brass' such as HRH the Duke of Kent, Air Chief Marshal Sir Edgar Ludlow-Hewitt (Inpector General RAF), Air Chief Marshal Sir Charles Portal (Chief of the Air Staff), Air Chief Marshal Sir Arthur Longmore (Inpector General RAF), Air Marshal W.S. 'Sholto' Douglas (C-in-C Fighter Command), Air Chief Marshal Philip Joubert de la Ferte (C-in-C Coastal Command), Air Marshal Roderic Hill (C-in-C Air Defence of Great Britain), Air Marshal Norman Bottomly (Deputy Chief of the Air Staff), AVM Trafford Leigh-Mallory (C-in-C Fighter Command), AVM W.A 'Billy' Bishop VC, AVM Basil Embry, AVM Hugh Saunders (AOC 11 Group), AVM Douglas Evill (SAOS Fighter Command),  AVM Don Bennett (AOC 8 (PFF) Group), King Peter of Yugoslavia, and Lt General Carl Spatz USAAF, Commander of Strategic Air Forces in Europe.
 Of the 127 airmen commemorated on the Roll of Honour memorial, one hundred and twenty were aircrew, six were ground crew and one was RAF Regiment. Eighty-three were RAF (including one Canadian, one Belgian, one South African), thirty RCAF,  nine RNZAF, three RAAF, one SAAF and one USAAF.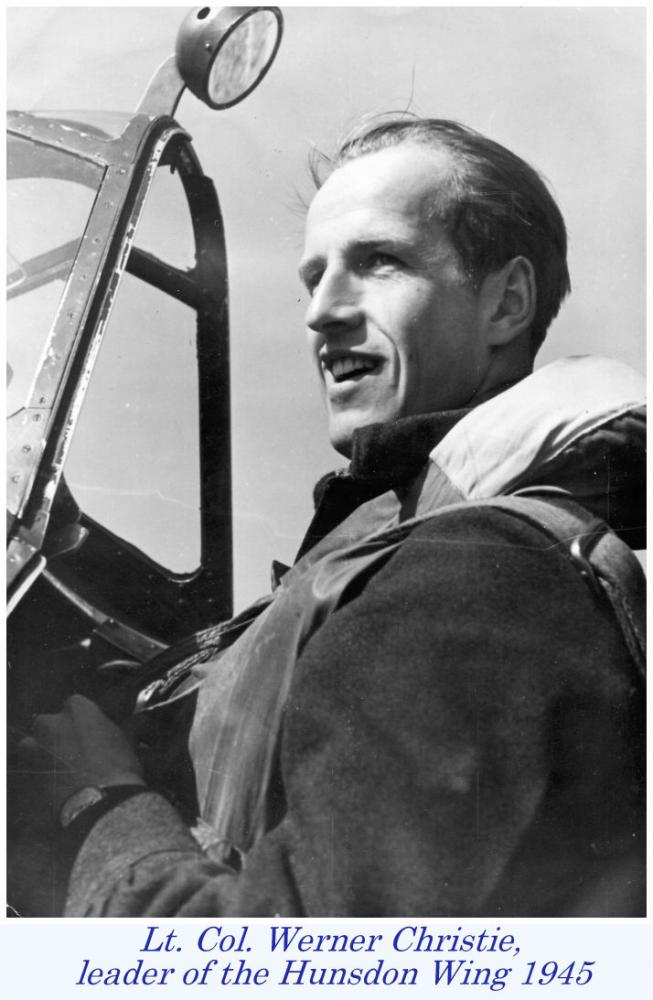 Aerial view of Site No.1, taken c.1952. The airfield runways can be seen at the top of the photo.
 1946 aerial shot overlaid onto Google Earth image